Eberhard Tamm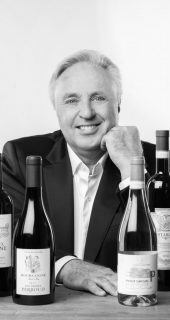 Founder/Owner
A passionate wine enthusiast and visionary industry professional of more than four decades. During this time frame, Eberhard worked with and travelled to every major wine producing and consuming market in the world. This developed and trained a unique, well rounded palate and laid the foundation for the "enotri – roots matter" philosophy.
Together with his like-minded team members, Eberhard is committed to procure and introduce harmonious, carefully crafted wines that represent the true character of their birthplace and terroir. Honest wines without pretence and make-up.
Guillaume Frélot
Account Manager – Southern Alberta
Born and raised in France, Guillaume is a well-trained and experienced professional in the field of gastronomy and hospitality. He completed his training in several hotels of the Rélais & Château chain as well as Michelin star restaurants in Europe. Guillaume enjoys a great reputation for his uncompromising approach to providing his clients with the best possible hospitality and gastronomic experience. His high level of professionalism, excellent palate, and customer service skills are a welcome addition to our team.
Kristen Bobier-Katz
Marketing Manager
Kristen is an experienced film producer and marketing & business development professional. Over the course of the past six years, Kristen has successfully developed and executed various projects for Enotri. She identifies with our philosophy and we are fortunate that we can now benefit from Kristen's creativity and professionalism on a more regular basis.
Patrick Malkin
Strategic Management Consultant
With business experience in domestic and international markets. Patrick has become a well rounded businessman with a keen acumen, and far reaching abilities for success. Proficient in all aspects of profit and loss, business & team development, and an ability to propel a business from inside, or outside the operation. Patrick continues to be a consistent top performer in both sales and business growth.
Patrick is considered a forward-thinking leader among his peers and enjoys teaching on his topics of interest – business growth and development, effective people/team management, and leadership.
Rheanna Reichenfeld
Account Manager – Southern Alberta
Rheanna first became fascinated with the world of wine a few years ago after spending a family vacation in BC's Okanagan Valley and the experience resulted in her determination to learn the industry from the ground. Rheanna spent the following years in working at various renowned and popular BC wineries. During that time, she gained experience working as Cellar Hand and as Tasting Room and Retail Sales Representative. Upon returning to Alberta, Rheanna continued on her chosen career path by working in several high end restaurants that had also established a reputation for their wine lists. While working at the Fairmont Château Lake Louise, Rheanna completed her WSET Level 2, and she now feels ready to take the next step. Her research brought her to Enotri and the company's portfolio that is based on a philosophy she shares.
We  are glad that Rheanna has chosen Enotri as her next step and welcome her determination, professionalism, and proven  people skills.