Eberhard Tamm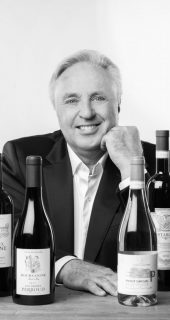 Founder/Owner
A passionate wine enthusiast and visionary industry professional of more than four decades. During this time frame, Eberhard worked with and travelled to every major wine producing and consuming market in the world. This developed and trained a unique, well rounded palate and laid the foundation for the "enotri – roots matter" philosophy.
Together with his like-minded team members, Eberhard is committed to procure and introduce harmonious, carefully crafted wines that represent the true character of their birthplace and terroir. Honest wines without pretence and make-up.
Ian Searle
Account Manager/ Sommelier
Ian was born and raised in South Africa. Very much in line with his country's winemaking philosophy, Ian's palate and preference gravitated towards the Old World wine styles. Upon immigrating into Canada in 1981, Ian worked in various customer service and sales orientated positions before deciding to make a vocation out of his passion for fine wine and food. He enrolled into the highly respected International Sommelier Guild (ISG) and after two and a half years obtained his diploma as an ISG Certified Sommelier. During the course of the subsequent nine years, Ian owned a fine wine boutique in Sherwood Park and delighted in continuously introducing unique wines from around the world to his customers. His clients appreciated Ian's knowledge, the education he offered as well as his expertise in providing the appropriate food pairing recommendations.
Ian always believed in the enotri portfolio and the selection process that is driven by the Roots Matter philosophy. He determined that his own core values are in alignment with the company's vision and decided to join the team to add his expertise in product selection and customer service to further strengthen enotri's position in our market.
Anne Perret
Portfolio Manager
Born and raised in France, Anne very early on discovered her keen interest in the culinary arts and in all matters relating to physical and spiritual health. Her well-rounded training and experience include a degree in Hotel Management from a prestigious school in Paris, followed by several years in Restaurant and Hotel Management and as a Chef in France, USA, and Canada. In addition, Anne has obtained and is working towards diplomas in several areas of alternative medicine. Anne believes that the combination of nutritious food and good wines is an essential cornerstone of a well balance, happy life style.
Anne loves nature and fully subscribes to the "enotri – roots matter" philosophy and the strong sense of commitment shared by all of our wine growers to their land. From her base in France and with her natural, instinctive palate, Anne is the link to our winery partners and constantly discovers new wineries that are aligned with the enotri philosophy.