Eberhard Tamm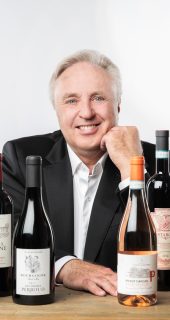 Founder/Owner
Enotri is a word from the ancient Greek language and means "People from the land of the vine". I cannot think of a name better suited to capture the philosophy and vision that are the foundation of the wine import agency I founded in 2012. This philosophy and vision did not happen overnight but are the result of a life spent in the amazing world of wine.
Over the course of a career that spanned more than four decades I had the privilege of travelling to and working with every single major wine producing and consuming market in the world. During that time frame I developed an intimate knowledge of both the commercial and the artisanal side of wine, discovered diverse food cultures, met many wonderful people, and developed a network that spans five continents. Enotri is a portfolio of wines crafted by growers who all share the same passion for and dedication to their land. Wanting to work exclusively with artisanal, terroir driven wines, the foundation of the enotri community is formed by growers in the traditional European regions with vineyards that were first cultivated by the Romans over 2,000 years ago. These growers come from all over Europe, but they all share the same basic values:
• Integrity
• Farming their land following natural, sustainable principles
• Low intervention winemaking techniques
Terroir driven to us means that each wine tells the story not only of the soil the grapes are grown on, but also of the climate and their environment along with the passion of the growers that tend to them. A sense of time and place captured in a glass. A wine's purpose is to enhance the moment, the conversation, the company, the meal that it is enjoyed with.
I am humbled by the many amazing people I met during my journey through the world of wine. I am thankful for all the wonderful moments of amazement whenever I came across these passionate artisans and their craft. It is these emotional memories, achieved by mindfully cultivated, soulful wines, I want to share with friends and wine enthusiasts. Hopefully, in the process you will experience your own special "Wow" moments.
Welcome to the world of enotri with wines that all have their own stories of their unique terroir and tell them without pretense or make-up. Why and how?
Because Roots Matter.
Anne Perret – Portfolio & Events Manager
Anne Perret was born and raised in France. Very early on, Anne discovered her keen interest in the culinary arts. After completing her baccalauréat, Anne enrolled into a Hotel Management Program in Paris. Upon the successful graduation from this program, Anne gained valuable experience by working as a restaurant and hotel director. Following her true passion, Anne then decided to move to the culinary side and started her career as a chef. Driven by her natural curiosity and desire to experience new culinary ideas, Anne spent a total of 8 years in USA and Canada before returning to her native France in 2016. The varied international experience further developed Anne's natural and unspoiled palate, enabling her to come up with recipes that are a unique combination of traditional preparations and her own interpretations based on her intuition and creativity. Anne's approach to her cuisine can best be summed up by "Feel – Care – Nourish".
Anne loves nature and fully subscribes to the "enotri – roots matter" philosophy and the strong sense of commitment shared by all of our wine growers to their land. From her base in France, she is our valuable link to our winery partners and is in charge of portfolio management. In addition, Anne oversees and plans enotri's culinary experience events.