Eberhard Tamm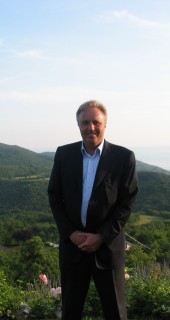 Founder/Owner
A successful import agent, export director, and marketing manager, Tamm has developed an intimate knowledge of his winemakers and their wines. Tamm was raised in Germany, and travels between Canada and Europe, frequently discovering new wines.
Tamm is very much the profile of a wine Enthusiast. He enjoys what most describe as old world wine. The Enthusiast finds pleasure in learning a product's origins: the roots, terroir, and especially its story — all of which are best shared with friends.
Satya Das
Strategic Advisor
Das finds his experience as a restauranteur, food writer, restaurant reviewer frequently assisting his work with Enotri. Working as the wine columnist for the Edmonton Journal, Das encountered Tamm, and the two joined their collective experience together to form Enotri.
Das fits the bill of a Classic Connoisseur. These wine aficionados have a traditional approach — they try the famous vineyards, they know how to taste a wine, and they select clear favourites. Traditional winemaking techniques are the most attractive, and the Connoisseur collects ideal choices, shelving them so they may age to perfection.
Valerie Albrecht
Account Manager, Northern Alberta
Albrecht grew up with roots to the old world via her parents, who instilled the appreciation of food grown and harvested by one's hands while respecting the soil. Her experience in sales in the wine industry, combined with visits to wineries in Italy and Spain has allowed her to expand her knowledge and share her passion with others.
Like Tamm, Albrecht is a wine Enthusiast, one who enjoys wine of every country and creed. To the Enthusiast, the taste of the wine is as interesting as its origin and terroir, and its flavour and stories are best shared with friends.
Anne Perret
Anne Perret was born and raised in France. Very early on, Anne discovered her keen interest in the culinary arts. After completing her baccalauréat, Anne enrolled into a Hotel Management Program in Paris. Driven by her strong curiosity and desire to experience new things, Anne spent a total of 9 years in Spain, USA, and Canada before returning to her native France in 2016. The varied international experience further developed Anne's natural and unspoiled palate, enabling her to come up with recipes that are a unique combination of traditional preparations and her own interpretations based on her intuition and creativity. Anne's approach to her cuisine can best be summed up by "nourish – inspire – share".
Anne loves nature and fully identifies with the "enotri – roots matter" philosophy and the strong sense of commitment shared by all of our wine growers to their land. From her base in France, she assists Eberhard in the areas of supplier liaison and portfolio management. In addition, Anne is in charge of enotri's culinary events.